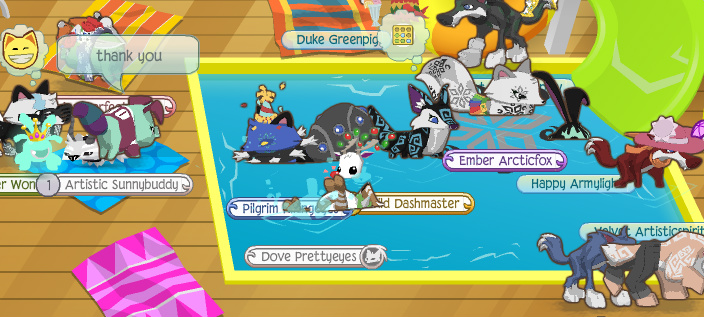 News Crew - How to Beat the Summer Heat by AutumnLeavez
Hello, every animal; local jammer AutumnLeavez speaking! How has your summer been? I've been having a blast playing TIKI TROUBLE and all of the exciting SUMMER CARNIVAL games! However, after having all that fun in the sun, the heat can get a bit overwhelming, which is why I'm here to tell you jammers what you can do to BEAT THE HEAT!
The cruise ship party is an excellent place to just cool down and have fun. With smoothies, pools, slides and an amazing view, no jammer will ever fall victim to boredeom. At the same time, you can bathe in the cool breeze from the comfort of a soft towel. Nothing better than cooling down on a cruise with a few friends and a delicious drink!
If you miss the cruise, fear not, for there are still other options! Captain Melville's Juice Hut is always open and welcomes all jammers at any time of the day. Inside the hut there is a small stage, dance floor, a claw machine and a few cushions. Planted on the warm sands of Crystal Sands, this legendary little shack is THE ultimate resort; you can even make a few gems by playing FAST FOODIES!
If dancing and playing the claw aren't your thing, you can always visit the juice hut's home beach: Crystal Sands! Massive, twisting slides and the cool, refreshing water will keep you from getting too heated. While you're there, you can even give your pet a nice bath at the Pet Wash, which is seated right next to Tierney's Aquarium. So you see, jammers, there is quite some fun stuff to do in order to BEAT the HEAT!
Before I go, I would like to remind you jammers about all the fun summer items available only for a LIMITED TIME! Head over to the Diamond Shop, Jam Mart Clothing or Jam Mart Furniture and grab these fun aquatic items before they're gone! Stay safe, every animal, and happy jamming!
Thanks so much to AutumnLeavez for that fantastic article! Congrats on winning the DIAMOND NEWS CREW PLAQUE for your den! Diamond plaques are awarded to Jammers who are specifically featured on the DAILY EXPLORER: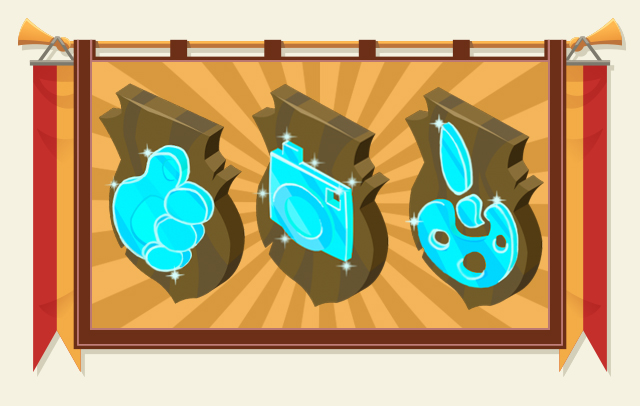 Our next NEWS CREW topic is about GOING BACK TO SCHOOL. You can submit reports at JAMMER CENTRAL located in JAMAA TOWNSHIP.
Make sure to title your submission "News Crew - Going Back to School!" to help us sort through the submissions! If you want to learn more about submitting NEWS CREW articles, just CLICK HERE!