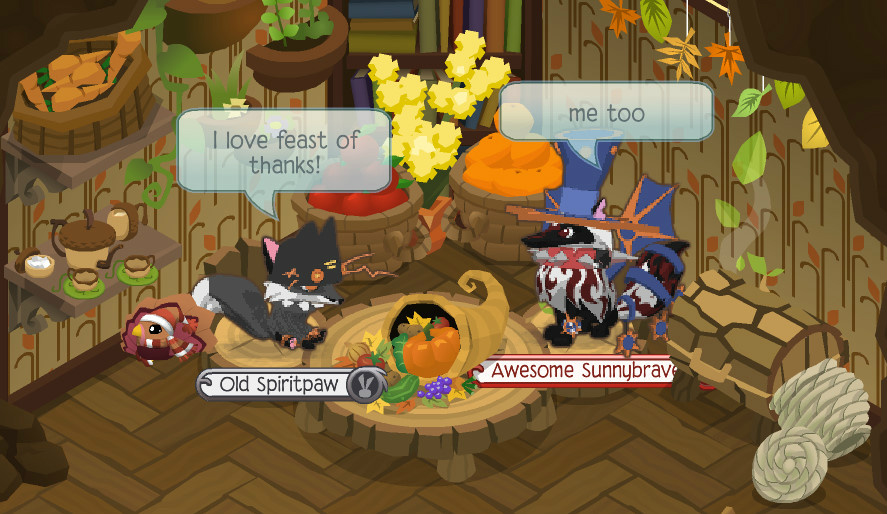 News Crew - All About the Feast of Thanks
by: Lacings



Hey Jammers! Today is all about celebrating Feast of Thanks, one of Jamaa's most spectacular celebrations! But first of all, what is Feast of Thanks exactly? Well, Feast of Thanks is when all Jammers come together and talk about the things they're the most thankful for! The Alphas that protect us, the parties we go to, the buddies we talk to everyday, are all reasons to be a thankful Jammer! Isn't that just fantastic?



First of all, to properly be a festive Jammer, you'll need to host a feast in your den! How? Well, its simple, start decorating! During the month of November both the den and clothing stores of Jamaa are filled with Feast of Thanks items, and except that, you can also play the Twists and Turns adventure for some cool Autumn decorations too. You could add a table and some chairs from the Medieval Party to make your feast room, and you can also add items from Jam Mart Furniture to give your den the Autumn feeling!
After you're done decorating, unlock your den and gather all your buddies for a Feast of Thanks party! Now that's what I call festive! And if you think you're not into the FEASTY spirit yet, don't worry, I got you covered! Because who can be thankful without showing it?



Jam-a-Gram your buddies telling them how much of a thankful Jammer you are to have them, or make a Masterpiece about the reasons you are thankful in the first place! Jamaa is an amazing land and there are many ways to show how much you love it, hopefully by following my tips you can get into the Feast of Thanks spirit even more!



Thanks for writing such a fantastic report! It's a pleasure to have you on the NEWS CREW team. Congrats on winning the DIAMOND NEWS CREW PLAQUE for your den! Diamond plaques are awarded to Jammers who are specifically featured on the DAILY EXPLORER:

Our next NEWS CREW topic is HOW TO GET INTO THE JAMAALIDAY SPIRIT. You can submit reports at JAMMER CENTRAL located in JAMAA TOWNSHIP.  

Make sure to title your submission "News Crew - Title of Contest" to help us sort through the submissions! If you want to learn more about submitting NEWS CREW articles, just CLICK HERE!