News Crew- What has happened in the Temple of Ancients? - by sweetpuddingpie
A new landmark has peeved its way into the maps of Jamaa! After unanimous decision between the Alphas, the Ancient Hearthstone has been escorted in its place of origin: Balloosh! A place shrouded with mystery, Balloosh is home to many of Jamaa's ancient complexities which have yet to be discovered. Amidst the enigmatic wetlands lies The Temple of the Ancients, which is no less a mystery than the former!
Upon entering, you are greeted by a rather lavish interior, with a façade constructed by stone and crystals and colossal structures that makes a jammer incomparably small, one can't help but feel intimidated by the archaic nature of the temple. Located at the heart of the temple lies The Statue of Sabertooth, an ancient animal rumoured to have existed in Jamaa ages ago!
So many things have happened in what seems to be a matter of a few days and weeks, yet we still know so little! From the events trailing back from the River's Heart, the emergence of Balloosh to the general public, the opening of the Temple of Ancients, the curious case of the stone blocks and now, everything just gets more and more confusing each day.
We know very little regarding the origins of the place; how did came to be, how old it is and much more! The reason as to why the landmark has only opened up to the public right now is also a curious case. For all we know, there are plenty other fossils and other beings that only reveal itself within the land's premises, I mean, the Journey Book isn't for nothing, right?
Whether or not this theory proves correct adds another thing in our plates, but at-least there is one thing we can be sure of. The sudden appearance of the Hearthstone and the materialization of the statue are way too uncanny to be overlooked;
Sabertooths are coming to town!
Thanks so much to sweetpuddingpie for that fantastic article! Congrats on winning the DIAMOND NEWS CREW PLAQUE for your den! Diamond plaques are awarded to Jammers who are specifically featured on the DAILY EXPLORER: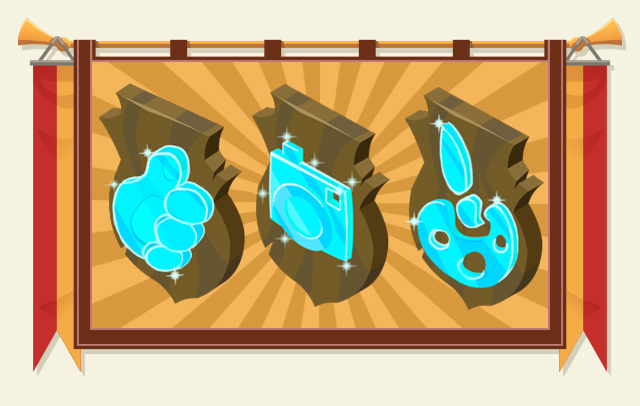 Our next NEWS CREW topic is ALL ABOUT ENDANGERED OR EXTINCT ANIMALS. You can submit reports at JAMMER CENTRAL located in JAMAA TOWNSHIP.
Make sure to title your submission "News Crew - All about ENDANGERED or EXTINCT Animals!" to help us sort through the submissions! If you want to learn more about submitting NEWS CREW articles, just CLICK HERE!