News Crew - How to get into the Jamaalidays spirit!
by: Delya204
Do you feel like you're not in the spirit of joy, laughter and the Jamaalidays? Do not fret Jammers! That's why this article here will help melt those cold feelings away in no time! And soon you'll be feeling like the jolliest elf on their very first Jamaaliday!



Happy Jamaaliday Jammers, it's your fellow buddy Delya204! And I'm here to help those who can't be in the Jamaaliday spirit.
First, as we all know it's cold, very cold so that's why Jammers, I advise you to wear and bundle yourselves into the latest Jamaaliday clothing. Plus, not only are they comfy and stylish, but also very festive and affordable! How cool is that?! Not only will you feel warm and be getting into the Jamaaliday spirit, you'll look great doing it! So head down to Jam Mart Clothing now!



We all like games, fun and adventure right? So why not add all three together? That's what this next reason has to offer and that's why this next reason will surely get you into the Jamaaliday spirit. Jamaaliday Rescue! Yes, that's right Jammers, this adventure is all about helping those in need, teamwork and fun! Collecting gifts, getting prizes and at the same time meeting new buddies! Now that is an awesome game!



Next up is one of my personal favorites, decorating your den! What's not lovable about decorating your den? And make sure you pick up the Gingerbread House, that is only available for a limited time, and fill it up with all the cool Jamaaliday den items you want! And when you're done decorating it, go and invite your buddies to check your den out. Plus, Jam Mart Furniture has some pretty amazing Jamaaliday den items for sale!
The Jamaaliday Jam! This Jammers is one of the greatest reasons why you should get into the Jamaaliday spirit, why you ask? Because this party is full of it! In this party every Jammer is having fun, talking about the presents they asked for, and being able to watch the colorful deer dance! Oh, by the way, Deer are now available, for a limited time only that is, in stores so get yours before they travel!
If you're a tough nut to crack, that even nutcrackers can't make you feel the Jamaaliday spirit, than this last reason will. The Jamaaliday Gift Calendar! This is one reason I'm sure every Jammer loves! This last reason but never the least, in fact, it's the best and that's why I saved it for last! This reason allows you to get a new item every day for the whole month of December! So log in every day to get your fantastic prize!
Plus, some gifts come with diamonds!
Hopefully you're feeling the Jamaaliday spirit already, and Happy Jamaalidays! Remember to play fair, but never forget the fun!



Thanks for writing such a fantastic report! It's a pleasure to have you on the NEWS CREW team. Congrats on winning the DIAMOND NEWS CREW PLAQUE for your den! Diamond plaques are awarded to Jammers who are specifically featured on the DAILY EXPLORER: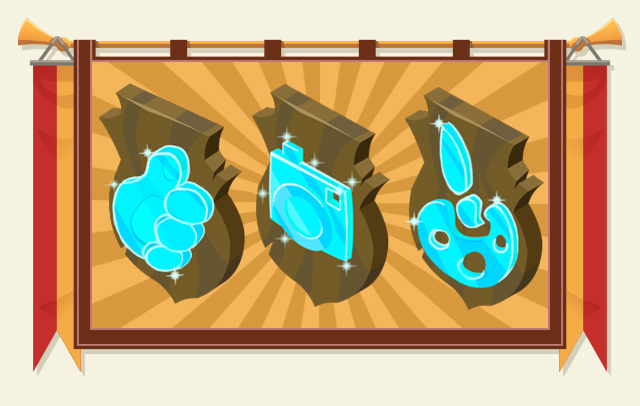 Our next NEWS CREW topic is Favorite winter activity. You can submit reports at JAMMER CENTRAL located in JAMAA TOWNSHIP.
Make sure to title your submission "News Crew - Title of Contest" to help us sort through the submissions! If you want to learn more about submitting NEWS CREW articles, just CLICK HERE!